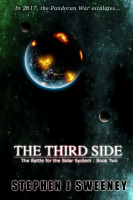 Today, on 1st February 2010, I am pleased to announce THE THIRD SIDE, the second book in the BATTLE FOR THE SOLAR SYSTEM trilogy and the follow-up to THE HONOUR OF THE KNIGHTS.
The story takes places six months after the events of HOTK and focuses on a 24-hour period in which the White Knights fight for their survival, whilst unravelling the secrets that the Confederation and the Independent Worlds have sought to keep from the galaxy. Currently, it is anticipated that the novel will arrive in late 2010 (however, this may be subject to change). The book is complete at 146,000 words, making it around 20,000 words longer than HOTK. This is currently the pre-edited version, so it's possible the word count could decrease or increase substantially.
The content update is also now live and you can now find a number of new profiles for characters, events, places and some updates on the technology. Some new downloads, in the form of desktop wallpapers, have been created for visitors' consumption, too. There will likely be a few teething problems at first, such as functional issues and others things, such as typos. If you encounter any, please let me know.
But this is not all - Starting from the 5th February, THE HONOUR OF THE KNIGHTS will be serialized online for reading on this website. A new chapter will be added every Friday (5th, 12th, 19th, etc.), and the text of the novel will be made available under Creative Commons (by-nc-nd). The chapters will be posted in sequence and available to read on the novel's dedicated page. You will also be able to download the regular updates from the downloads page, in HTML, plain text and PDF formats. Paperback copies, of course, will still be available to purchase online at Amazon, Book Depository, Waterstone's, etc., as well as in store at a select number of branches of Waterstone's in the UK.
So, what are you waiting for? Start exploring!